Budget Bathroom Tiles
Servicing Campsie Canada Bay Chiswick Concord Croydon & nearby areas.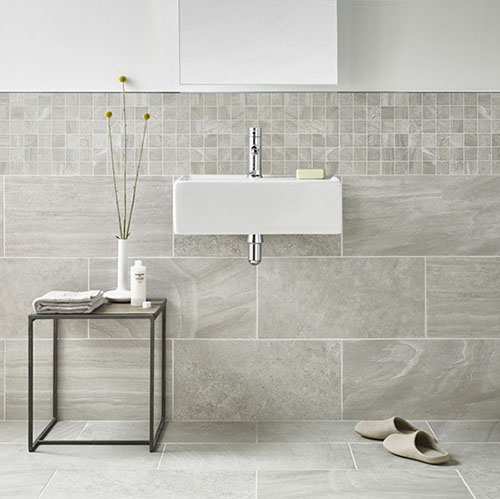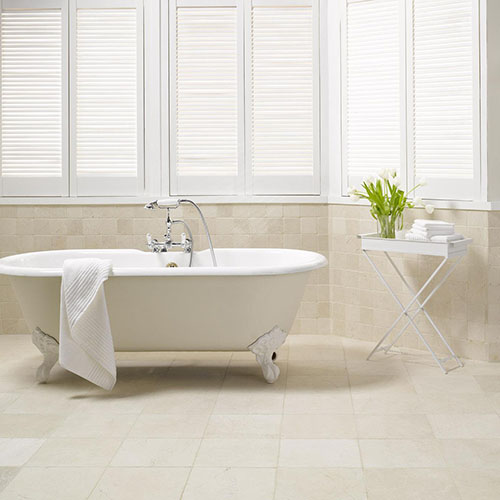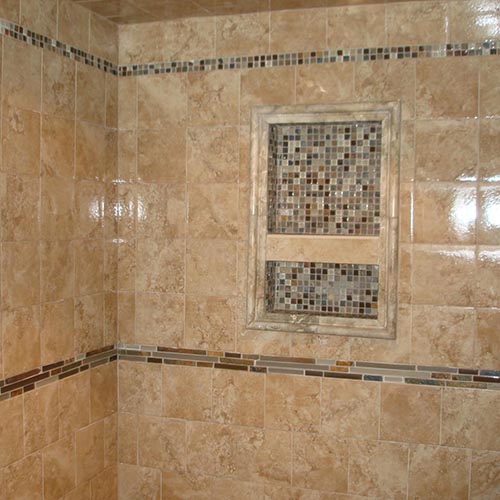 Types of Bathroom Tiles
Porcelain or Ceramic
Porcelain and ceramic tiles are made from a clay mixture. The mixture is pressed to make the desired shape and heated at extremely high temperatures to form a tile. These tiles can be glazed for use in a bathroom.
They're available in different patterns, sizes, shapes, and colors. A modern method for glazing these tiles is fusing high definition digital images on their surface. This makes them more decorative.
Natural Stone
Tiles made of natural stone are generally rough and ideal for use in a contemporary or rustic bathroom.
They're not waterproof, thus they require an impervious membrane to make them withstand the moist condition of bathrooms.
Give us a call to learn more about these contemporary natural stone tiles. They are sure to give you a stunning new look.
Glass
Tiles made of glass are quite elegant and luminous. They're available in different colors and custom hues. These tiles are often used to create focal points on bathroom walls.
They are also used in bathroom wall mosaics. Glass tiles resist staining and are impervious to water.
They are ideal for use on floor areas with low traffic and on walls.
Marble
Marbles are natural stones obtained naturally from limestone. Marble tiles are traditional and sophisticated.
They come in different sizes and may be polished. They can be veined or patterned to add an interesting touch to the bathroom.
Decorative
These tiles are made from different materials and decorated or embossed with different patterns or images such as stripes, birds, and leaves.
They are ideal for a mosaic, mural or a border. They can also be used as a bathroom accent.
Granite
This stone is typically harder than most naturally available stones. Granite tiles come in different textures and colors.
They are ideal for floors areas with high traffic and countertops. Granite tiles give you a classy finish and are have high resistance to abrasions.
Limestone
Limestone is yet another natural stones used for making tiles.
The surface of limestone tiles is honed, and they're available in yellow, brown, and beige hues.
They are perfect for flooring and countertops.
Terra-Cotta
These tiles are fired at a low temperature.
They are non-vitreous, low-density, and only ideal for use in dry areas. They may be glazed for use in a bathroom.
These tiles are pretty versatile and are becoming popular in Australian homes.
Metal
These tiles are typically made from a solid metal. They're also made from resin coated with a metal.
Metal tiles come in finishes such as copper, stainless steel, and bronze. They are typically used as a bathroom accent alongside other tile varieties.
Travertine
This is a form of limestone which is obtained naturally from minerals. These minerals are usually dissolved in underground water and pushed by water through the crust to form travertine. This stone has multiple layers.
Travertine tiles have earthy colors. They offer a sophisticated look when used on bathroom floors and walls.
Cement-Bodied
These tiles are made from a mortar and cured sand mixture.
Cement-bodied tiles are non-vitreous and durable.
Some have a rough-hewn look while others have a sport smooth finish. They provide a natural look to the bathroom.
Saltillo
Saltillo tiles are a type of terracotta tile. They are dried rather than being fired. They originate in Saltillo, Mexico.
They are non-vitreous and low-density.
These tiles are rough textured and their natural imperfections make them ideal for adding a rustic charm. However, they're permeable.
Slate
This stone has a fine texture. It is made from a clay and shale mixture which is transformed by pressure and heat.
Their surface is textured and this makes them slip-resistant. They are ideal for countertops, walls, and floors.
Quarry
Quarry tiles are thrust and heated at extremely high temperatures.
They can be either vitreous or semi-vitreous.
They are fired unglazed and come in different shapes, sizes, and colors.
Our Bathroom Renovation Services Include:
Full & Partial Renovations

Medicine Chests & Mirrors

Medicine Chests & Mirrors

Tub to Shower Conversions
Set the Perfect Mood For Your Bathroom With Wall & Floor Tiles
After having a busy day at work, you need a hot shower or spend some time in a bathtub to relax. Therefore, you need to choose the correct tiles to create a soothing environment in your bathroom. E.g. By choosing the right colour of tiles.
It is important to understand that colour plays a very important role in our lives by creating or reflecting a mood or a feeling. In fact, it is known that change of colour can affect your mood over a given period of time.
Therefore, when deciding the colour scheme of your bathroom, you should consider all possibilities to make the right choice. To set the perfect mood with bathroom tiles, you have to:
Choose the right type of tiles
Your choice not only reflects your personality but also dictate how you will feel every time you are in the bathroom. Therefore, don't haste in making a choice because it would turn out to be a wrong choice. Instead, you should take your time to research and ask for advice from other people to make the right choice.
The type of tiles you choose should be able to serve their purpose i.e. suitable. The tiles should be easy to clean and last longer to prevent regular replacement/repair or maintenance costs.
Ceramic tiles are considered as the ideal choice for most people because they are non-porous, slip resistant and easy to clean. Besides ceramic tiles, travertine tiles are also a good choice because their finishing surfaces maintain a consistent look all through.
This means that travertine tiles can be installed on floors or walls because they require little or no maintenance.
A slate tile has an anti-slip finishing surface that facilitates traction. Hence, you can install slate tiles on your bathroom floor. However, if you need some elegance in your bathroom, consider using marble tiles on your bathroom floor or walls.
If you consider using granite tiles, expect to replace them after a period of time because they wear off fast. However, their rate of wearing off depends on how you use your bathroom, cleaning chemicals used among other factors.
Finally, you can use glass tiles to create a unique mosaic design on your tiled bathroom wall or floor. However, glass tiles are a bit expensive compared to another type of tiles.
Decide on the look and feel
You should determine the size, shape, and colour of tiles to use before you start installing the tiles. Bathroom tiles are available in many different sizes and shapes to suit variable bathroom designs. Rectangles, triangles, octagons, hexagons, and squares are among the common shapes of tiles installed in bathrooms.
Small and medium-sized tiles are elegant and they are mostly used in small bathroom settings, around the windows, sinks, and toilet. Make an informed decision whether to use large, medium or small sized tiles in your bathroom.
The colours you choose will create a particular mood in the bathroom. For instance, white or beige tiles make your bathroom feel spacious while warm colors bring about a welcoming feel.
Cooler colours will make you feel at peace while in the bathroom. With bathroom remodels being common nowadays, there are professionals who can help you choose the right tile colours depending on what you want.
Decide the layout
Plan in advance to know what your bathroom layout will look like. Your bathroom layout also plays a key role in determining your mood while in the bathroom.
For instance, you can use contrasting grout colour to make each tile stand out or use the same grout colour to have a striking effect. You can also use different sizes and colour of tiles to decorate your bathroom.
There are different sizes, shapes, and colours of tiles to choose from and meet your expectations. Just research thoroughly, ask for advice or opinions and be creative.
Schedule an Appointment Today!
Our Service Coverage Area Includes City of Sydney and it's Suburbs