Budget Bathroom Tiles
Servicing Hurlstone Park Haberfield Homebush & nearby areas.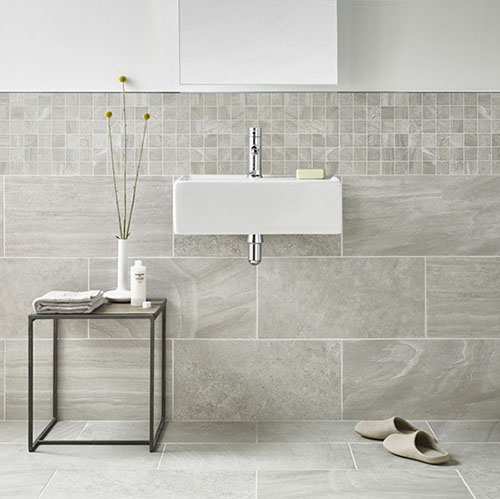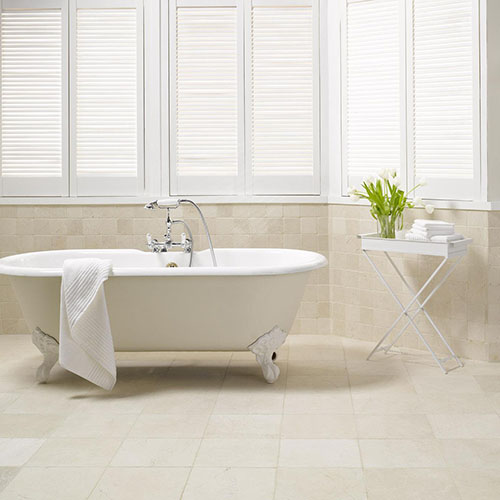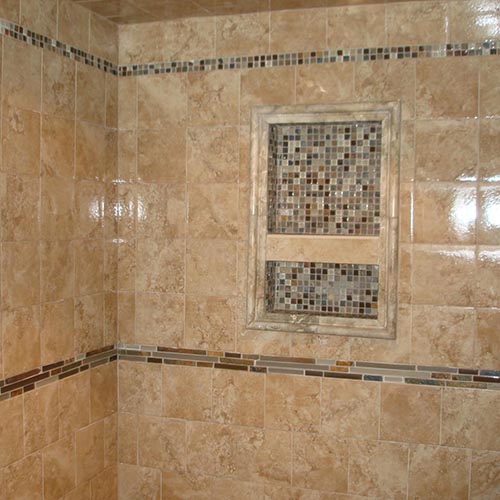 Types of Bathroom Tiles
Porcelain or Ceramic
Porcelain and ceramic tiles are made from a clay mixture. The mixture is pressed to make the desired shape and heated at extremely high temperatures to form a tile. These tiles can be glazed for use in a bathroom.
They're available in different patterns, sizes, shapes, and colors. A modern method for glazing these tiles is fusing high definition digital images on their surface. This makes them more decorative.
Natural Stone
Tiles made of natural stone are generally rough and ideal for use in a contemporary or rustic bathroom.
They're not waterproof, thus they require an impervious membrane to make them withstand the moist condition of bathrooms.
Give us a call to learn more about these contemporary natural stone tiles. They are sure to give you a stunning new look.
Glass
Tiles made of glass are quite elegant and luminous. They're available in different colors and custom hues. These tiles are often used to create focal points on bathroom walls.
They are also used in bathroom wall mosaics. Glass tiles resist staining and are impervious to water.
They are ideal for use on floor areas with low traffic and on walls.
Marble
Marbles are natural stones obtained naturally from limestone. Marble tiles are traditional and sophisticated.
They come in different sizes and may be polished. They can be veined or patterned to add an interesting touch to the bathroom.
Decorative
These tiles are made from different materials and decorated or embossed with different patterns or images such as stripes, birds, and leaves.
They are ideal for a mosaic, mural or a border. They can also be used as a bathroom accent.
Granite
This stone is typically harder than most naturally available stones. Granite tiles come in different textures and colors.
They are ideal for floors areas with high traffic and countertops. Granite tiles give you a classy finish and are have high resistance to abrasions.
Limestone
Limestone is yet another natural stones used for making tiles.
The surface of limestone tiles is honed, and they're available in yellow, brown, and beige hues.
They are perfect for flooring and countertops.
Terra-Cotta
These tiles are fired at a low temperature.
They are non-vitreous, low-density, and only ideal for use in dry areas. They may be glazed for use in a bathroom.
These tiles are pretty versatile and are becoming popular in Australian homes.
Metal
These tiles are typically made from a solid metal. They're also made from resin coated with a metal.
Metal tiles come in finishes such as copper, stainless steel, and bronze. They are typically used as a bathroom accent alongside other tile varieties.
Travertine
This is a form of limestone which is obtained naturally from minerals. These minerals are usually dissolved in underground water and pushed by water through the crust to form travertine. This stone has multiple layers.
Travertine tiles have earthy colors. They offer a sophisticated look when used on bathroom floors and walls.
Cement-Bodied
These tiles are made from a mortar and cured sand mixture.
Cement-bodied tiles are non-vitreous and durable.
Some have a rough-hewn look while others have a sport smooth finish. They provide a natural look to the bathroom.
Saltillo
Saltillo tiles are a type of terracotta tile. They are dried rather than being fired. They originate in Saltillo, Mexico.
They are non-vitreous and low-density.
These tiles are rough textured and their natural imperfections make them ideal for adding a rustic charm. However, they're permeable.
Slate
This stone has a fine texture. It is made from a clay and shale mixture which is transformed by pressure and heat.
Their surface is textured and this makes them slip-resistant. They are ideal for countertops, walls, and floors.
Quarry
Quarry tiles are thrust and heated at extremely high temperatures.
They can be either vitreous or semi-vitreous.
They are fired unglazed and come in different shapes, sizes, and colors.
Our Bathroom Renovation Services Include:
Full & Partial Renovations

Medicine Chests & Mirrors

Medicine Chests & Mirrors

Tub to Shower Conversions
Bathroom Tile Ideas
Are you looking for bathroom tile ideas? Are you getting frustrated? We bet that you've visited many local bathroom and tile stores. Have viewed static display after static display as an attempt to gain some sort of inspiration for your own bathroom project to no avail.
In the last two decades, tiles are one of many things that have come a long way. At one time tiles were considered practical for backsplashes in kitchens, and one row high around bathtubs.
In recent years tiles are considered a design of choice that has a huge market. These days tiles are a beautiful solution for floors and walls in bathrooms.
If you've been thinking about coming up with bathroom tile ideas, you need to decide what style and type of tile you are looking for. The main options are ceramic, porcelain, glass, and natural stone.
Any of these types of tiles can be used for bathroom flooring and walls. However, you need to carefully consider the implications and characteristics of each one.
This way you will be able to avoid potential failures which could cost you a lot of money and be disastrous to your project. Before installing any tiles you need to evaluate the situation surrounding each choice.
Whether it's on the bathroom walls or the floor, or both. Consider if the tile needs strengthening or waterproofing. It the tile is too heavy, you may want glass tiles which require a different type of adhesive, with a professional technique that will avoid any unsightly spaces and shadows behind the tiles.
One popular style for the modern bathroom is to create a completely wet room. This is pretty much a walk-in shower and is much more comfortable than an enclosed one.
These wet rooms can be done in any room type providing that certain rules are followed. The room will need to be 100% waterproofed, that seals in the water and prevents leakage into other areas of the house. The tiles also need fails in it so that the water can drain and not pool.
If you are looking for a beautiful finish, in your bathroom, the natural stone option might be the way to go. These are available in several guises that provide different characteristics and wearing grades.
The thing is that with natural stone it will vary. Most natural stone tiles will need a cleaning regimen and seal occasionally to keep the tile in excellent condition. These tiles can be used on both walls and floors.
Yet, they have quirks that you'll need to be knowledgeable about in order to fix them before you consider installing them. This is because natural stone tiles have higher requirements compared to ceramic and porcelain types of tiles.
Another consideration for bathroom tile is mosaic tiles. These have a timeless quality that suits most spaces. The thing about mosaic tiles is that these come in glass, porcelain, and natural stone finishes, and in various colors.
Like with the natural stone, mosaic tiles have a special care that needs to be taken when it comes to fixing these tiles. This is to avoid the adhesive from squeezing up through. Because of this, laying mosaic tiles can prove difficult for the inexperienced.
Please remember, if you plan to use mosaic tiles in a wet area with no tanking system, you will have a much higher risk of the water turning into a substrate that causes failure.
When laying tiles in a bathroom you can achieve a designer look with inexpensive tiles, including white and matching size colored ones, contrasting horizontally or vertically. Plain white tiles can look too clinical, consider a striking contrast floor tile that matches other fittings in your bathroom.
When considering bathroom tile ideas, the biggest problem is that the possibilities are endless. When it comes to your bathroom decide what kind of space you're looking for. Combine different tile types, and have a bit of a designer flair and you'll achieve a beautiful, bathroom that you'll love.
Schedule an Appointment Today!
Our Service Coverage Area Includes City of Sydney and it's Suburbs